Working From Home Is the New Must-Have Benefit Employees Are Seeking
A Hefty Majority Say Remote Work Makes Them Happier vs. Working in the Office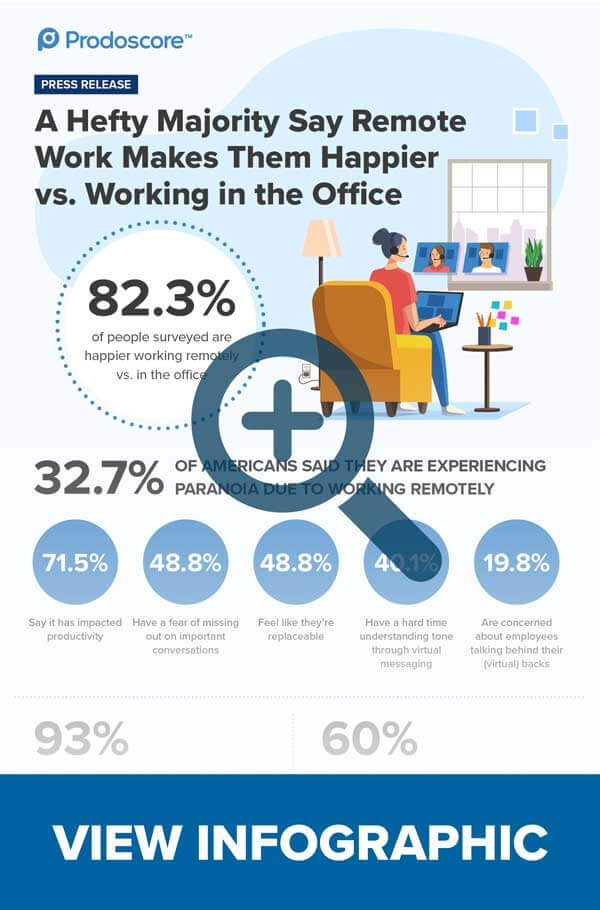 While business leaders debate the pros and cons of remote work, employees are clear: they want to hold on to their ability to work from home. According to a new third-party survey from Prodoscore, the leader in employee visibility and productivity intelligence software, the overwhelming majority of Americans (82.3%) are happier working remotely vs. working in the office. 
But there are challenges. One that looms large for remote workers is the "fear of missing out," a consequence of not being physically present in the office, where employees can be seen working diligently by upper management. Nearly a third of Americans surveyed (32.7%) said they are experiencing paranoia due to working remotely. Of those that are feeling paranoid:
71.5% said it has impacted their productivity at work 

48.8% said they think they're missing out on important conversations 

48.8% said they feel like they're replaceable

40.1% said it's due to the inability to understand tone through virtual messaging

19.8% were concerned other employees were talking behind their (virtual) backs
"Survey after survey, ours included, confirms that at the very least employees want a hybrid work option," said David Powell, President of Prodoscore, "We are faced with massive resignations and retirements. Millions of jobs are not getting filled. It is critical that we rethink how we define our workplaces, so that our employees are not paranoid, are able to be their most productive, and don't want to quit."
A Dedicated Home Workspace Makes All the Difference
Managers can foster productivity and a positive WFH experience by ensuring their teams have a designated, well-equipped home workspace. 
Prodoscore's research shows that nearly all remote workers (93%) believe having a dedicated home office makes WFH more enjoyable and boosts productivity. For many employees, this perception comes from firsthand knowledge: almost two-thirds (65.2%) of Americans surveyed who work from home have a designated home office.
Who's going to bear the cost to equip the home office? Two-thirds of employees (66.4%) expect their employers to provide them with tools for success, whether that's the necessary technology or the ergonomically correct chair and desk. 
Expectations vary widely between generations. Those between the ages of 18 and 39 are more likely to expect their employer to outfit their workspace (77.5%), compared with Americans between 55 and 65 and above (48%). 
Early in the remote worker phenomenon, there was speculation that employees would move to less expensive locales or even far-flung locations, given the opportunity. But that has not proved to be the case. Our research shows that remote workers are staying put, with only a small percentage (11.8%) moving out of the city where their office is located. Of those who moved, 44.8% reported it was somewhere with a lower cost of living.
The Younger the Children, the More Difficult WFH Becomes
Highlighting the critical need for a dedicated workspace is the reality that more than two-thirds of working parents (69.5%) had their children at home with them. The level of difficulty reported was directly proportional to the age of the respondent's children.
Not surprisingly, the younger the age of the children, the harder WFH is for parents: nearly two-thirds (60%) of parents of children between newborn and 2 years say that having kids at home made it difficult to work remotely.

For employees between the ages of 25 and 39, more than half (58.9%) reported WFH with young children was challenging. This cohort had more children under the age of 12 than any other group.

Across generations, less than half ( 41% ) said it was difficult having a child at home while working remotely. 
"This research demonstrates that while working from home is preferred over commuting to an office daily, it is not without its challenges," Powell said. "For parents of young children, whether they work at home or on-site, the juggle remains intact. How can upper management help? One easy fix is to ensure that our employees have a well-designed workspace, as well as access to the tools to succeed. We need to make decisions based on the reality that our success as a company is dependent on employees' happiness and productivity."
---
About Methodology
In September, Prodoscore and Propeller Insights polled more than 1,000 U.S. adults working full time across demographics about working from home, the importance of dedicated workspaces and some of the challenges they are facing.
About Prodoscore
Prodoscore™ is a company dedicated to empowering teams to be more effective and productive, validated with improved performance and enhanced contributions. By providing visibility into employee activities through a single, easy-to-understand productivity score, a "prodoscore" is calculated to improve workforce productivity and streamline the employee experience. Prodoscore works seamlessly with cloud tools like Google Workspace, Office365, CRM systems, and VoIP calling platforms, allowing it to be quickly implemented and maintained. Learn more at prodoscore.com.
Press Release initially published on Business Wire.